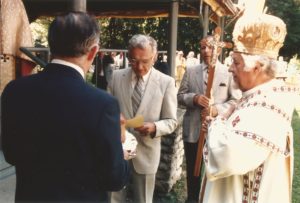 In the 1960's, the Ukrainian community of Amherstburg purchased the historic Bellevue House on Dalhousie Street with the goal of transforming it into a new Ukrainian Catholic Church. Bellevue House was built in 1816 by Robert Reynolds and was a beautiful example of Georgian architecture. With the purchase of a building, Bishop Isidore established St. Nicholas Ukrainian Catholic Mission Parish in Amherstburg.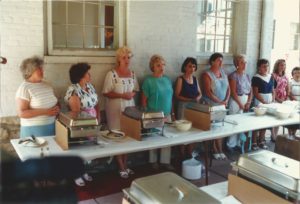 For many years, the parishioners and their families worked hard to maintain the beautiful building and vast grounds of the property. This property became a second home for many of the parishioners and their families and was dubbed "The Ukrainian Village" by the members of the parish. The property was also a hub of activity, especially during the summer, with numerous picnics and gatherings of the Ukrainian community.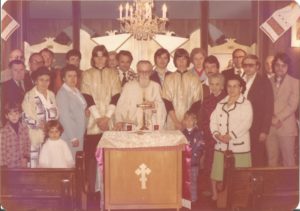 From its founding, St. Nicholas Mission Parish followed the Julian (Old) Calendar. Every Sunday and major feast day, a priest would make his way down from Windsor to serve Divine Liturgy for those who came to worship. For many years, that priest was Fr. Yurij Bodnar who became a great spiritual father to the faithful. In the 1980's, after his ordination to the priesthood, Fr. Peter Hrytsyk served St. Nicholas for the next 20 years as their spiritual father.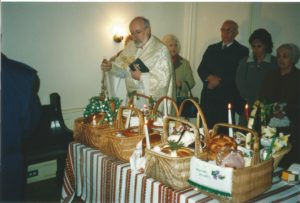 Under the guidance of Fr. Peter Hrytsyk, the parish worked hard to ensure that the Church and its liturgical life were central to its mission. Through the generosity of the parishioners, beautiful new liturgical furnishings were purchased from Greece which added to the beauty of the Church and enhanced its liturgical life. Although this parish was small in number, it always strove to be a place where people encountered God through prayer & beauty.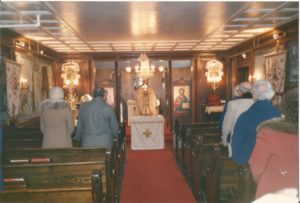 Declining membership, among other reasons, led to the selling of the Bellevue Estate property and the closing of St. Nicholas Mission Parish in 2004. Many of the parishioners became members of Sts. Vladimir and Olga Ukrainian Catholic Church in Windsor and actively participate in parish life. Every year on the Feast of St. Nicholas (December 6), a Divine Liturgy is offered for the founders and benefactors of St. Nicholas Mission Parish.